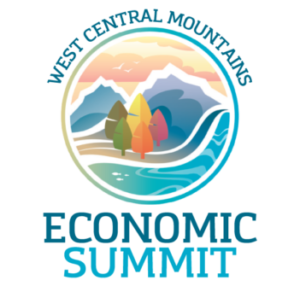 DETAILS: October 2nd, 8am-6pm, Shore Lodge–tickets are $50, register below.
KEY TOPICS:
Pathways/Open Space/Conservation
Workforce Development
Housing
Please join us for the second annual West Central Mountains Economic Summit. It will be an action packed day filled with regional discussion of the biggest challenges and opportunities across the West Central Mountains. Whether you're a local entrepreneur, developer, community champion, part time resident or just interested in the economic well-being of Valley County and Meadows Valley, you'll find something of interest at this event. This year's event theme: WHAT NEXT?
Agenda:
8:00am-8:45am: Meet, greet & continental breakfast
8:45am-9:00am: Welcome, introductions & opening remarks
9:00am-9:30am: Year in review & progress report–regional branding and future opportunities
9:30am-9:35am: Break
9:35am-10:50am: Pathways, open space & conservation
10:50am-11:00am: Break
11:00am-12:30pm: Workforce development, recruitment and apprenticeships
12:30pm-1:30pm: Networking lunch and agency outreach
1:30pm-4:00pm: Housing solutions panel and discussion about strategies for addressing our challenges
4:00pm-6:00pm: Cocktails and networking downstairs
REGISTER AND PURCHASE TICKETS: