COVID TASK FORCE MEETING NOTES
8 OCT 2020
Healthcare Update:
All St. Luke's Sites
Seeing an increase in admissions. Hospital capacity remains good. There are currently 50 COVID positive patients today compared to 36 last week. An increase of 14 patients from last week. There are no pediatric patients. There are currently 20 ventilated patients this week compared to 18 last week. These patients are both COVID and non-COVID related. Idaho is seeing an increase in case numbers especially in the Magic Valley area; their hospitals are getting close to capacity may begin sending people to Boise hospital. Hospitalizations may follow about 2-3 weeks after positive tests are being received. 
Follow this link for an article about what is happening in Magic Valley.
https://magicvalley.com/news/local/magic-valley-covid-19-cases-up-227-in-four-weeks/article_a397a6c3-9a09-55aa-88fe-2fea115b7ff6.html 
For more information about the St. Luke's health system and COVID information please visit: https://www.stlukesonline.org/health-services/service-groups/covid-resources/covid-data-and-reporting 
St. Luke's, McCall
Currently seeing an upswing in positive cases. There have been 2,272 tests ordered so far with 111 tests performed last week. Number of positive tests is now at 112 with an increase of 3 positives from last week (109).  There have been 11 new cases in the past two weeks. There are still 16 tests that are pending.
It's Flu shot time! Shots are available from local pharmacies (Rite Aid, Albertsons). You can also sign up through St. Luke's my chart online to schedule your flu shot with them. Follow this link to their site. https://www.stlukesonline.org/mychart 
Flu vaccines clinic for children 18 and under will be held at Payette Lakes Middle School on Wednesday, October 14th from 3-6pm.
St. Luke's is offering a COVID Virtual Town Hall on Monday OCT 12, from 12:00-1:00 pm. Discuss myths and flu vaccine as well as preparing for winter, cold weather and safety as we move indoors. Please follow this link for more information and how you can attend: https://www.stlukesonline.org/communities-and-locations/classes-and-events/virtual-town-hall-mccall?utm_source=stlukesonline&utm_medium=redirect&utm_campaign=shortcut%20townhall  
For more information about the McCall, St. Luke's health system and COVID information please visit the website below, scroll to the bottom and click on the updated information under "Additional Links":
https://www.stlukesonline.org/health-services/service-groups/covid-resources/covid-data-and-reporting 
Cascade Medical Center
See the updated graphics below to see COVID data at CMC 
CMC is now offering a "drive through" flu vaccination option on Thursdays and Saturdays. Follow the link to schedule your appointment and learn more http://www.cascademedicalcenter.net/getpage.php?name=2020-2021_Flu_Information&sub=Patient%20Info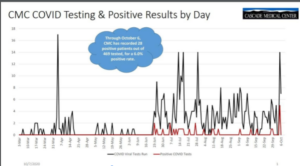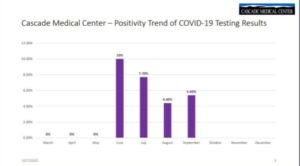 For more information about the Cascade Medical Center please follow the link below: http://www.cascademedicalcenter.net/ 
Central District Health (CDH)
Valley County is back in category two (yellow), increase in cases across the state. Working with sites in Ada county to put safe practices in place for polling and voting events. Average case rate/100,000 is used to categorize schools. There will be new guidelines and updates regarding schooling moving from in person to virtual. Not sure if this will take place.
If you are looking for more information on how to stay safe on Halloween or while trick-or-treating follow this link for helpful guidelines: https://www.cdhd.idaho.gov/pdfs/cd/Coronavirus/CDH-Safer-Halloween-09-25-20_Final.pdf  
If you have questions or would like more information, please call the CDH Call Center @     1-208-321-2222 
Youth Advocacy Coalition (YAC) 
YAC is offering a series on mental health through ZOOM and in person at Crestline Academy. Follow this link for more information and to register: http://events.r20.constantcontact.com/register/event?oeidk=a07ehbvnb1hba75b7b8&llr=sgw9adabb 
Below is a link to an article from the Idaho State Journal it explains how we may be entering a third phase of Coronavirus outbreak.
https://www.idahostatejournal.com/news/local/idaho-is-entering-3rd-coronavirus-wave-health-experts-say/article_78a67392-9c8c-520b-9aa1-04c1abf5cbfa.html 
Schools Update:
McCall-Donnelly School District
Monday Oct 12 board meeting with Dr. Irvine speaking about flu shots. On Wednesday, Oct 14 at Payette Lakes Middle School from 3-6pm there will be a flu shot vaccine clinic for children 18 and under. Many calls were received on Monday the 5th from people stating there was a positive case at the High School; Dept of health and welfare is monitoring the status of cases in schools and updating their information in their reports. The student was tested positive prior to school beginning but the student did not attend the school this year. No confirmed cases in the school system. There are many protocols and safety measures in place throughout the school system which has been instrumental in keeping students and personnel safe. 
Government Update:
Valley County
Things are staying much the same. New Rock the Valley, recovery and community office will be in the park center that will offer recovery and treatment options in Valley County.
City of McCall
Has approved the application process for businesses to use the public rite of way access for additional seating. For more information or to request an application contact Delta James (djames@mccall.id.us). Emergency powers authority ordinance public hearing was held, suggested that the council host a second hearing on the ordinance. If this was supported the earliest this could be voted on is November 5th. 
Trunk or treat will happen on October 30th (Friday), will be at alpine village. 
Cascade
Doing great, will be increasing sanitation efforts. Need to begin checking our own routines to make sure we are exhibiting proper sanitation efforts.
New Meadows 
Park restrooms remain closed and will likely reopen in the next coupe of weeks. City hall still has plexiglass and is operating mostly virtual. The St. Luke's medical clinic has reopened and will be seeing patients again. New Meadows is also recognizing a local mask volunteer by proclaiming her day next week!
Business Update:
Rotary Club
Kick COVID Event! Start date of Challenge was OCT 1st. During this event you can do 20 min of Exercise for 20 days, donate $20, or for 2 days per week take time to spend 20 minutes doing something good for your community, OR you can do all three! All proceeds go to scholarships for the MOSS day camp education program, $8,000 raised so far! To register for this event please visit www.idahokickcovid.com or check out their Facebook Page here https://www.facebook.com/McCallRotaryClub/ . You can also visit this website to learn more and register: https://portal.clubrunner.ca/3899/page/20-20-challenge?fbclid=IwAR25K1DsGRLtPNyoJGqYGLhhq_EwmQtLotruUWmZ07BxUC2B3V_LHegWtaU 
To celebrate the event there will be a donut eating competition and the opportunity to order Krispy Kreme Donuts! $12.99 for glazed dozed and $14.99 for chocolate or maple
Check out www.givemedonuts.com for more information. The competition will be on Nov 6.
Businesses:
Jug/Hotel McCall: Slowing down in town. Expecting a turn in the weather this weekend. The golf course will be open through the weekend and then will close for the season. The club restaurant is closed.
Shore Lodge: things are going steady and well. PPE has stabilized and there is a good supply. Some weddings have been hosted with no issue.
Marketing Update: 
Kindness campaign is still happening, check out your local library to pick some up! New mask video: script is being made. Will have 10 individuals say the whole script and then then edit so that everyone's voice is included. There will be funding sources from St. Luke's and other partners to make this happen. Film date is to be determined.
ADJOURN