COVID TASK FORCE MEETING NOTES
1 OCT 2020
Healthcare Update:
All St. Luke's Sites
Hospital capacity is good. There are 24 COVID inpatients today compared to 36 patients last (includes rule out). There are no pediatric patients in for COVID. The ICU currently has 9 patients compared to 8 last week. There are 18 patients on ventilators, both COVID and non-COVID related, compared to 16 last week.
For more information about the St. Luke's health system and COVID information please visit: https://www.stlukesonline.org/health-services/service-groups/covid-resources/covid-data-and-reporting 
St. Luke's, McCall
A total of 2,161 tests have been ordered so far. There were 101 tests performed last week. There have been 8 new cases occur in the past week, 14 total cases in the past two weeks, making 109 positive tests since COVID began. 15 tests are pending currently.
St. Luke's is offering a COVID Virtual Town Hall on Monday OCT 12, from 12:00-1:00 pm. Please follow this link for more information and how you can attend: https://www.stlukesonline.org/communities-and-locations/classes-and-events/virtual-town-hall-mccall?utm_source=stlukesonline&utm_medium=redirect&utm_campaign=shortcut%20townhall 
For more information about the McCall, St. Luke's health system and COVID information please visit the website below, scroll to the bottom and click on the updated information under "Additional Links":
https://www.stlukesonline.org/health-services/service-groups/covid-resources/covid-data-and-reporting 
Cascade Medical Center
Three COVID positive tests were received this past week. In total, 441 tests have been deployed with 23 coming back positive since COVID began. Please see updated graphics below for more information.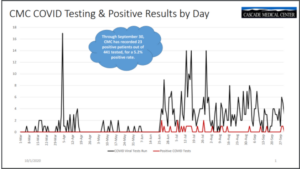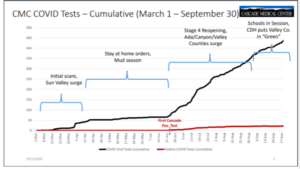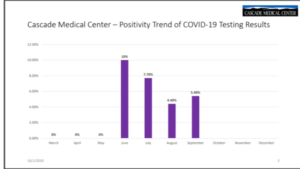 For more information about the Cascade Medical Center please follow the link below: http://www.cascademedicalcenter.net/ 
Central District Health (CDH)
CDH has partnered with the McCall Donnelly School District to host a clinic at Payette lakes Middle School for flu shot distributions. Date is to be determined. If you are looking for more information on how to stay safe on Halloween or while trick-or-treating follow this link for helpful guidelines: https://www.cdhd.idaho.gov/pdfs/cd/Coronavirus/CDH-Safer-Halloween-09-25-20_Final.pdf  School flu clinic in place at Payette lakes Middle School for flu shot distributions. 
If you have questions or would like more information, please call the CDH Call Center @     1-208-321-2222 
Youth Advocacy Coalition (YAC) 
YAC is offering a series on mental health through ZOOM and in person at Crestline Academy. Follow this link for more information and to register: http://events.r20.constantcontact.com/register/event?oeidk=a07ehbvnb1hba75b7b8&llr=sgw9adabb 
Below is a link to an article from the Idaho State Journal it explains how we may be entering a third phase of Coronavirus outbreak.
https://www.idahostatejournal.com/news/local/idaho-is-entering-3rd-coronavirus-wave-health-experts-say/article_78a67392-9c8c-520b-9aa1-04c1abf5cbfa.html 
Schools Update:
McCall-Donnelly School District: Everything is going well, there is still much caution when it comes to sports.
Government Update:
City of McCall  
Still working to gather information regarding usage of Public rite of way and how this pertains to restaurants in the changing season. 
Chamber of Commerce
Summer Local Option Tax Collections are this year over 2019, meaning we have been busy. Trying to support our members and businesses as much as possible. We appreciated the restaurant roundtable last month and found it was beneficial for our restaurants members. This week we had our new events team here for a site visit to review Winter Carnival and brainstorm what 2021 will look like. We are making sure we have all the right people involved in the planning process from the City, to Central District Health, our hospital, etc. to ensure we put on a safe event.
Business Update:
Strategic Planning Event
This is a FREE LOCAL event for all business owners, organizations and other interested parties. Join the WCMEDC and Dr. Jeffrey Smith in the basement community room at Idaho First Bank on 6 OCT 2020 from 8:00 am – 4:00 pm. Please bring your own lunch and mask!
Real Estate Update
Seeing many families stay in the area where normally they would go back to their primary home. Saw over 400 new transactions in September and ~60% of them were cash. Will likely see a large increase in population by the next year.
Rotary Club
Kick COVID Event Launched today! Start date of Challenge will be OCT 1st. During this event you can do 20 min of Exercise for 20 days, donate $20, or for 2 days per week take time to spend 20 minutes doing something good for your community, OR you can do all three! All proceeds go to scholarships for the MOSS day camp education program. To register for this event please visit www.idahokickcovid.com or check out their Facebook Page here https://www.facebook.com/McCallRotaryClub/ . You can also visit this website to learn more and register.https://portal.clubrunner.ca/3899/page/20-20-challenge?fbclid=IwAR25K1DsGRLtPNyoJGqYGLhhq_EwmQtLotruUWmZ07BxUC2B3V_LHegWtaU 
Hotel McCall, Ruperts and Jug Mountain
The golf course will remain in operations with out the restaurant. There is not enough staff to run both at this time. Things are busy and going ok.
Marketing Update: 
Started a post on Tuesday to help community members understand current reporting numbers: St. Luke's testing #'s, average overview of CDH, to help people stay informed and track changes in the community. Updates were made to the website for the protect your mountain playground promotion. A new video is in the works for "why I keep wearing my mask". Expecting video to be finished in the next 3-4 weeks. Will also enforce the 3W's with influence on mask wearing. 3W's: WEAR a Mask, WASH you Hands, WATCH your distance.
ADJOURN